Growing coriander
Coriander is an herb that is used in many different dishes. To ensure that you always have coriander at home, you can of course grow this yourself. In this article we tell you all the tips about how you can grow coriander. You will be growing coriander from supermarket in no-time!
Coriander growing
Growing coriander in pots is an easy way to grow coriander indoors. That way you can grow your own herbs without the need for a balcony or garden. But how do you exactly grow coriander? And how to plant coriander? We will tell you everything about growing coriander, from planting the seeds until harvesting the herbs. And if you're interested in taking your gardening passion further, don't forget to explore exciting gardener jobs on Jooble.

Coriander seeds for planting
Before you start growing coriander you will need seeds. It doesn't matter if you want to start growing coriander indoors or outdoors, but you will always need the seeds. For coriander seeds you can go to a garden center in the area. Most garden centers have a seed department where you can buy seeds for all kinds of plants, including the delicious herb coriander.
How to grow coriander indoors?
If you follow this step-by-step plan on how to plant coriander, you will be able to harvest coriander from your own garden in no time.
For the coriander to grow in the correct way, you will have to put 2 to 4 seeds in each pot from 2 by 2 inch.
Do not forget to make the potting soil a bit lighter, this way the coriander has a better chance of growing.
Make sure the seeds are spread equally over the pot.
Push the seeds under the soil for about 0,2 inch.
Start giving water immediately!
Coriander plant care
How long does coriander take to grow? How many times a week do you have to give water to the plant? We will answer all these questions for you. Coriander can grow indoors, but it is best for coriander to go outside in the spring. If you leave the coriander in the pot when it goes outside and when there is a too large temperature difference, there will be a high risk of outliers. So first put the coriander pot in a utility room or shed to get used to the temperature. Coriander needs nutrition once every two months, so make sure that the coriander actually gets it. In addition, coriander regularly needs water to prevent drought. Tip: Do you want to keep the coriander in the pot (indoors)? Make sure you have a larger pot to prevent outliers.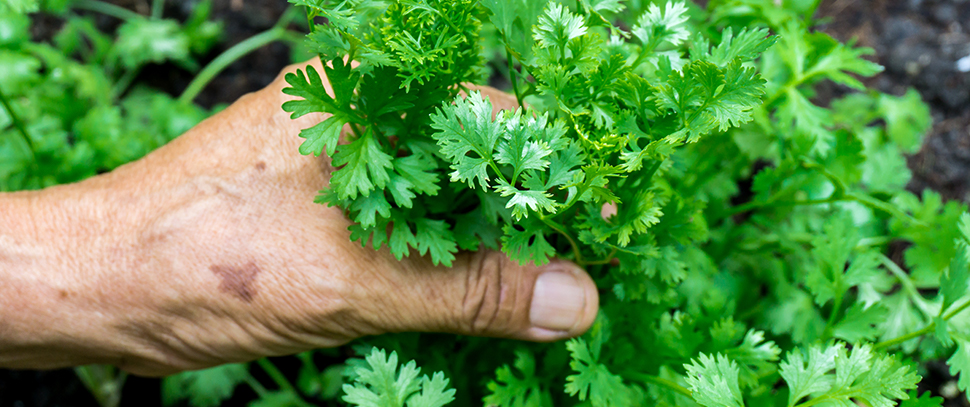 How to harvest coriander?
You may not have known it yet, but you can harvest the leaves and seeds from coriander. You can harvest the leaves whenever you want, but you will have to ensure that there are always some stems and leaves left over. These stems and leaves ensure that your coriander plant starts growing again. You can simply harvest the coriander by pulling the leaves. Harvesting coriander is easy, it may be nice to harvest coriander with your (grand)kids.
Use fresh coriander in dishes
There are many possibilities to use coriander in dishes. Coriander, for example, is very popular in Thai cuisine, but coriander is also used as a decoration for soups. Are you afraid of ruining the dish with too much coriander? Then it is best to use the coriander seeds. These have a less intense taste. You can use more of this without having to worry that the taste of coriander will dominate too much.
Do you want to know more about growing coriander UK? We will be able to answer all your questions about this delicious herb. Let us know if you were able to grow coriander based on this article!