Growing courgettes
Growing courgettes in pots might be easier than you think. With the right tools and if you follow our steps you will be eating courgettes from your own garden in no-time. You can either grow courgettes indoors or outdoors, depending on where you live. If you are currently in the UK, best is to start sowing the courgettes indoors and plant them out later. How to grow courgettes?
Growing courgettes from seed
Courgettes can not handle frost, so make sure you start sowing the plants a couple of weeks before the last frost. Best is to sow the seeds in 7 centimeter pots. The compost you will be using is fine seed compost. You can buy this special compost at a garden centre nearby. The seeds have to be placed at about 0,5 inch deep into the 7cm pot. The next step to growing courgettes from seed is to put the filled pots on a windowsill with sun. The fine seed compost has to be moist at all times, but be careful to not over water the courgette seeds.
Growing courgettes in a pot
After the courgette seeds started growing you will need to pot the plant to a larger pot with fresh compost. This pot will be placed inside as well, because it is still too cold to plant them out. The roots will have more space to grow in the bigger pot. Did the seeds grow fast and are they quite big already? Then you can plant the courgette plant into a 15 centimeter pot. If the plant is still on the small side, it is best to pick a 12 centimeter pot. Fill the new pot with compost and give the roots a tight seal by firming the compost around the roots.
Planting courgettes outside
When to plant out courgettes? We started by growing the courgette seeds in a pot on a windowsill. The plant got enough warmth in this place, but now we want to remove the courgette outdoors. The temperature difference is big, this is why you will have to harden off the plants first. If you are a proud owner of a (mini) greenhouse, this will increase the chance of success. Put the plant into the greenhouse for longer periods each day during the week. At the end of the week the courgettes will be able to stay during the day and night. If you do not own a greenhouse, hardening off courgettes can be done by putting the plant in an unheated room or shed for about three days. After hardening off the plants, plant the courgettes at a sunny spot which is protected from strong wind.
When to harvest courgettes?
There is no guideline to harvest courgettes. Each plant will take its own time to grow courgettes and the growth depends on the weather as well. You can harvest courgettes as soon as they have the right size. It is best to pick the courgettes when they are still a bit small, the taste will be much better and the plant will have enough energy to grow new courgettes.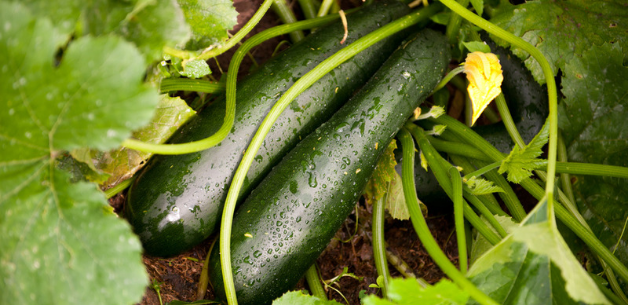 Growing courgettes problems
Even though courgettes are quite easy to plant and grow, chances are high that you will have some problems in the growing process. Chances are high that the first courgettes you pick will have rotten ends. This happens with a lot of plants and it is nothing that you have to worry about. Remove the rotten courgettes and your problem will be solved. Another problem with growing courgettes is that these plants are sensitive for mildew. Mildew is a parasitic disease that often occurs in the vegetable garden. Read more about how to prevent or remove mildew in our article ''Removing mildew''.
Courgette recipe: a delicious omelet
Not only are courgettes fun to grow, they are delicious to eat and there are a lot of different ways to process them in dishes. For instance, you can cook a delicious omelet with courgettes. Follow the steps and you will probably have a new favourite courgettes recipe:
Necessities:
Courgette
Two eggs
Salt
Pepper
Spinach
Feta
Beat two eggs and add salt and pepper to taste.
Grate half a courgette and add this to the beaten eggs.
Cut some spinach and add this to the omelet.
Add a quarter of a block of feta and mix it all together.
Put it in a pan and it will be ready within minutes.
With all this information you will be able to grow courgettes, harvest them and even make a delicious omelet with courgettes. Enjoy!