Grass care winter
After winter your lawn might look a little different than before. The cold will affect your grass and of course you want it to look beautiful again. With these tips, you will be able to transform your lawn again. Everyone is looking for green, healthy grass. It's easier than you think; with the right care, your grass will always look good.
Step-by-step plan: Preparing lawn for winter
After summer, it is the best time to start preparing your lawn for winter. Follow the following steps and your lawn will be winter-ready!
Remove all the fallen leaves with a garden rake. This will make sure your lawn is free from disease.
Well-trodden paths and areas where children were playing need to be reseeded.
Lose the soil surface with a garden rake and remove weeds and dead leaves.
In the areas that need to be reseeded, start with sprinkling soil.
A lot of different brands offer a repair kit for your lawn. Use these kits to repair the empty, dead or dry spots in the lawn.
Scatter the grass seed and use about 30 grams per square meter.
Grab the hose and spray the affected places with a lot of water.
After reseeding you could use some fertilizer to make sure the grass will be full and beautifully green.
Winter lawn care
Believe it or not; winter lawn care exists. While your grass is probably not growing and the mower is staying in the shed, there are a couple of things you could do to make sure your lawn is winter-ready! Make sure you use weed control in winter. The grass is an easy spot for weeds to grow in winter because they are weak during this period. If you notice any weed, remove it before it gets any bigger and takes over your entire lawn. Try to avoid a lot of people walking, running, playing or cars driving over your lawn. Rak up all the fallen leaves during the winter and your lawn will be ready to be played on in spring!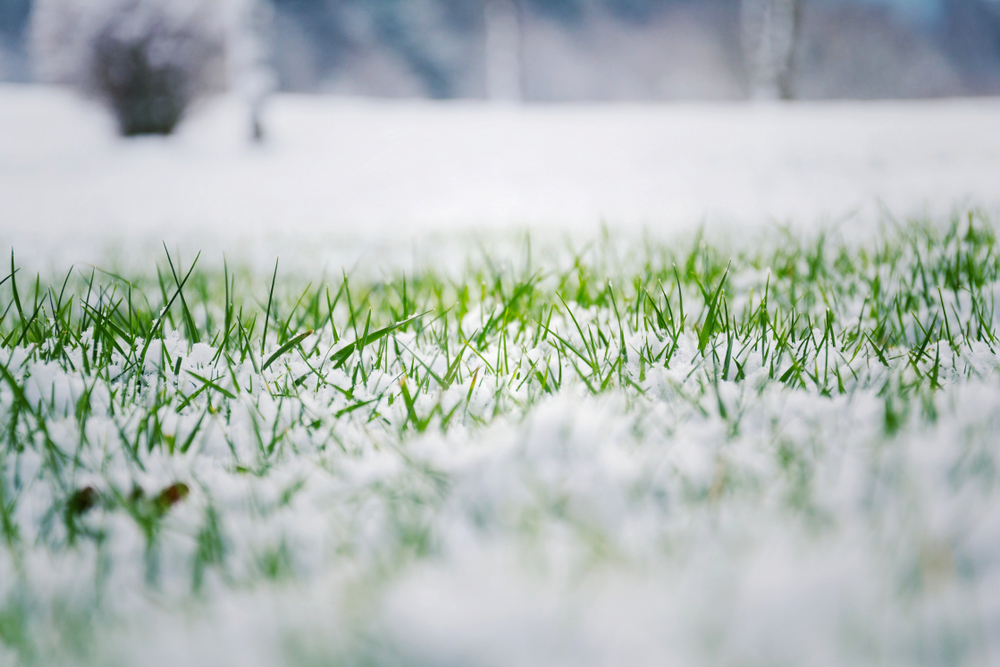 Cut grass in winter
During the winter it is best to not bother your grass as much. You should only mow the grass if it is truly necessary. There are a few rules you should follow when you cut the lawn in winter:
Remove debris before cutting
Never cut your grass when the ground is wet
Don't cut your grass or walk on your grass when it is freezing
Now you know that it is possible to cut your grass in winter, it brings us to the question ''When to cut grass in winter?'' You can cut your grass whenever you want, just make sure you don't cut it when it is raining or freezing!
When to cut grass after winter?
Cutting your grass after winter is helping the grass to become healthy and strong again. There is no such thing as a period when you have to start cutting; it all depends on the length of the grass. You should wait with cutting grass until the grass becomes at least 3 inches long. Mostly, this occurs in March. After the first cut, you will need to start mowing each week again.
Good luck with your lawn in winter and we sure hope your grass is still green, beautiful and healthy at the beginning of spring. Also make sure you buy grass seed so you can plant them already. Follow our steps and you will be surprised about the quality of the grass. Grass care winter might be easier than you think, but the preparation is the most important. Let us know how your grass looks in spring and maybe you'll even find some new tips to share!